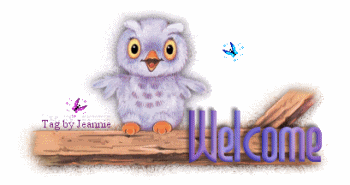 .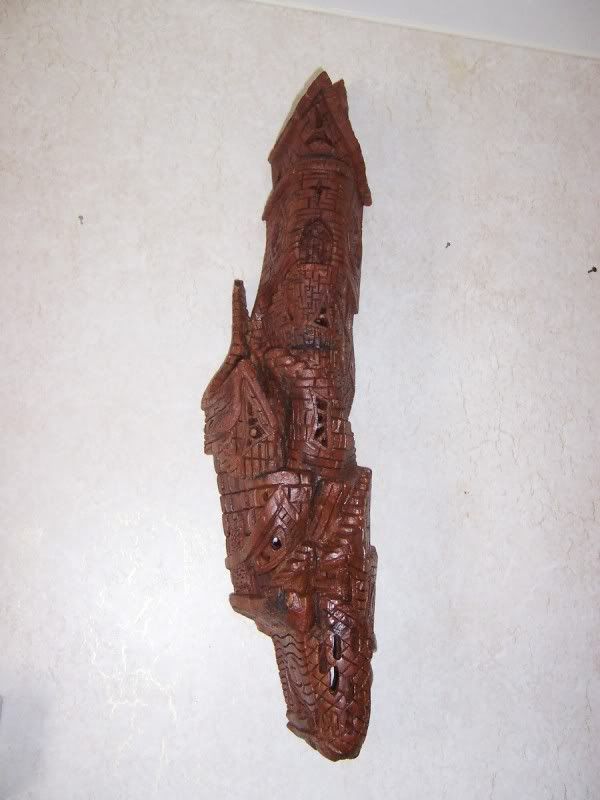 DICK'S LATEST BARK CARVING....TOP PIC SHOWS THE RAW BARK ON 2-21-10 AND THE FINISHED CARVING ON 3-17-10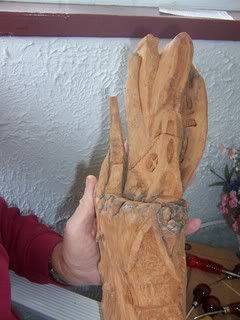 Dick's latest carving .....From this to....................This in about a week!!!!
(10-6-09)
Another bark carving in the making (August 24, 2009)
September 9, 2009 Finished - September 11, 2009
THIS IS THE COMPLETED BARK CARVING HANGING ON OUR WALL. IT CAME OUT BEAUTIFUL. IT TOOK HIM APPROXIMATELY ONE MONTH FROM START TO FINISH...BUT HE DIDN'T WORK ON IT EVERY DAY. (8-3-2009)
Dick is putting the finishing wax on the bark carving.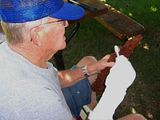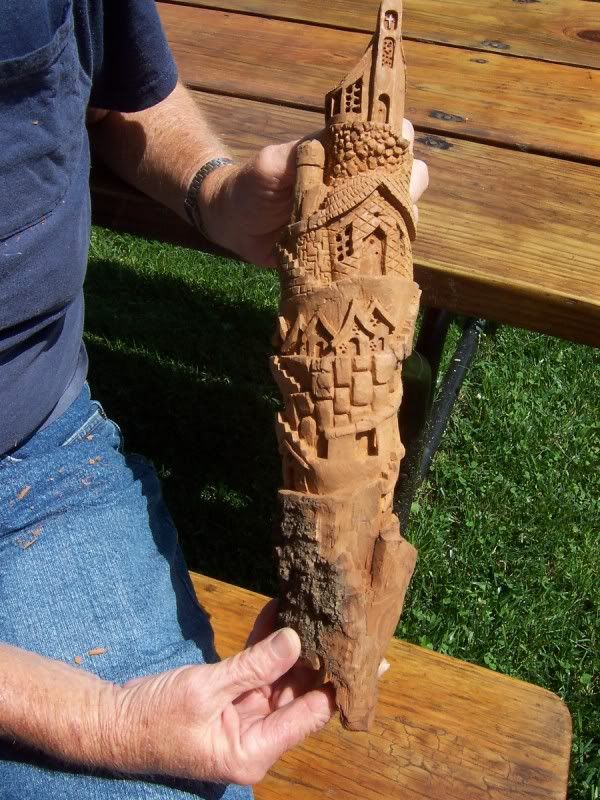 THE BARK CARVING IS NEARING COMPLETITION- JULY 24, 2009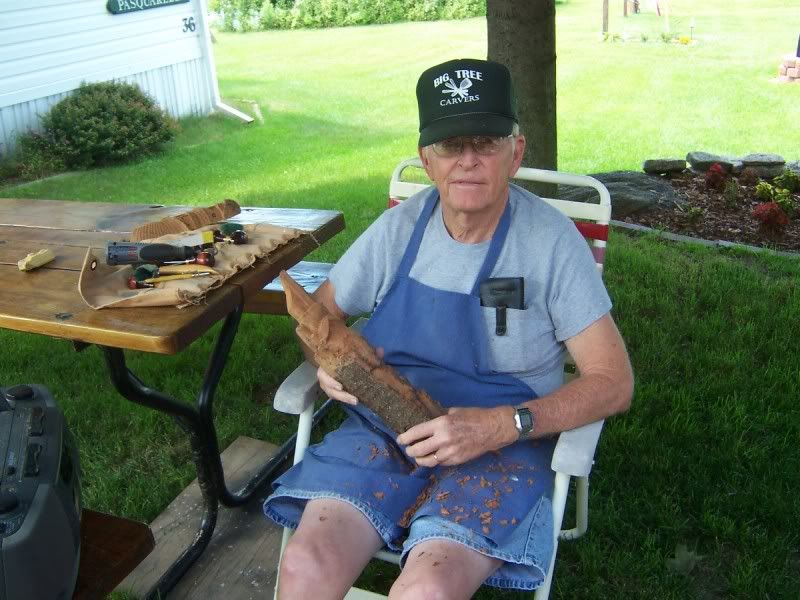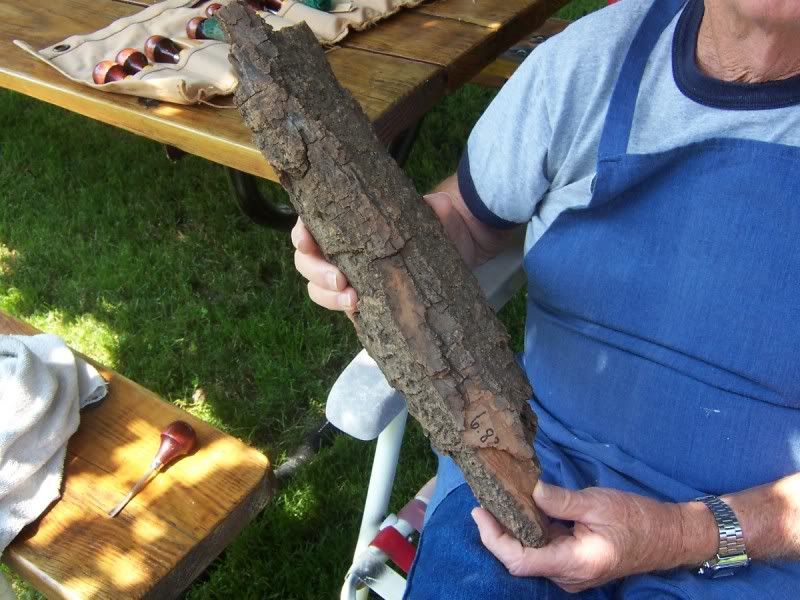 Dicks is currently carving another bark carving. The picture above shows the raw piece of bark and the bottom picture is what he accomplished in just one day! (July 1, 2009)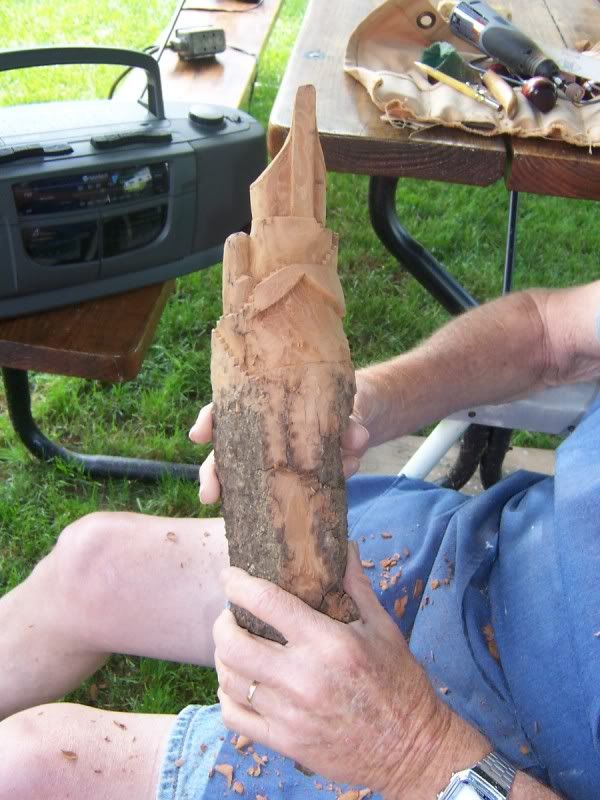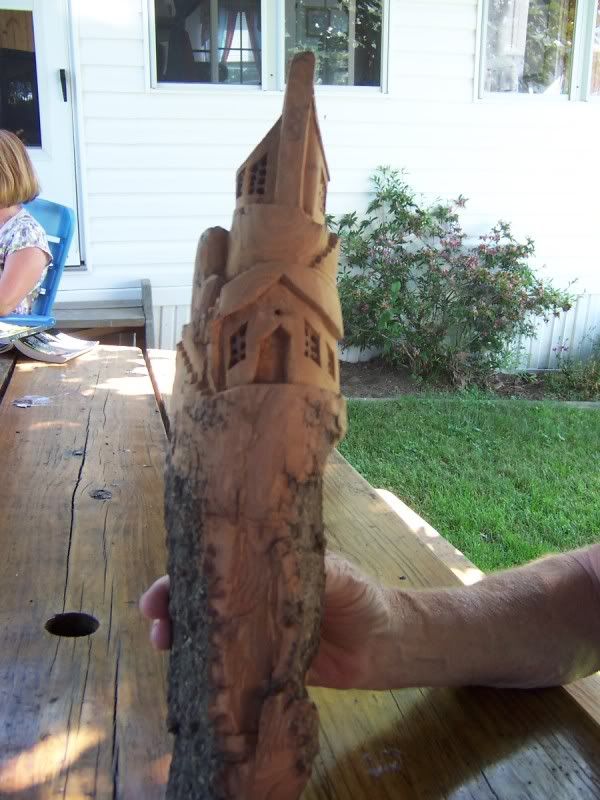 THE CARVING AFTER A COUPLE MORE DAYS OF CARVING. (7-6-09)
DICK CARVED THIS INK WELL WITH FEATHERS FOR OUR DAUGHTER, KAREN'S 50TH BIRTHDAY MAY 11, 2009. HE HOPES TO TEACH HIS CARVING CLASS HOW TO MAKE THIS WHEN CARVING SESSIONS RESUME IN THE FALL OF 2009.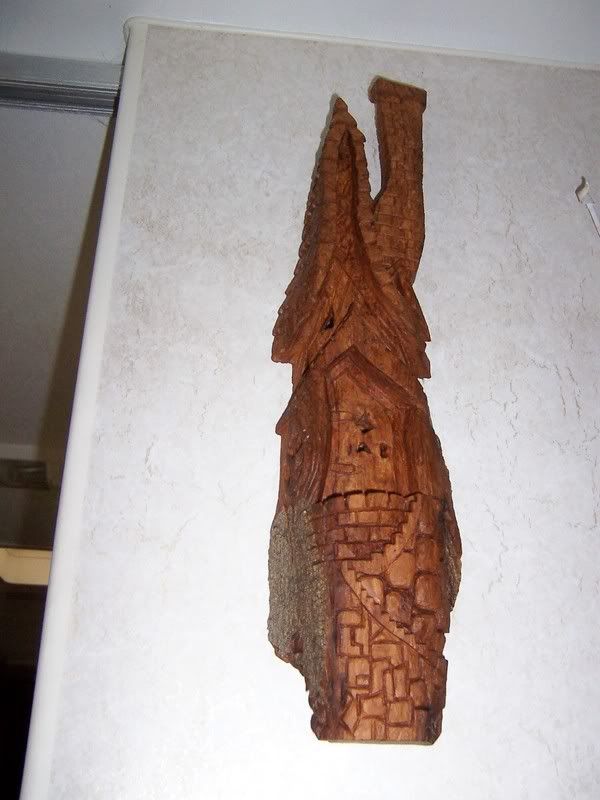 One of Dick's newest carving projects - BARK CARVING! 2008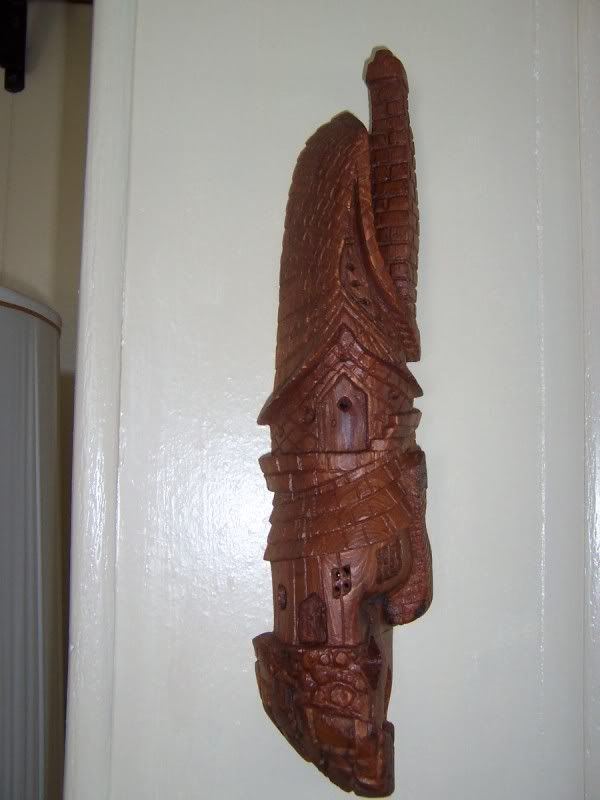 DICK'S SECOND BARK CARVING (MAY 2009)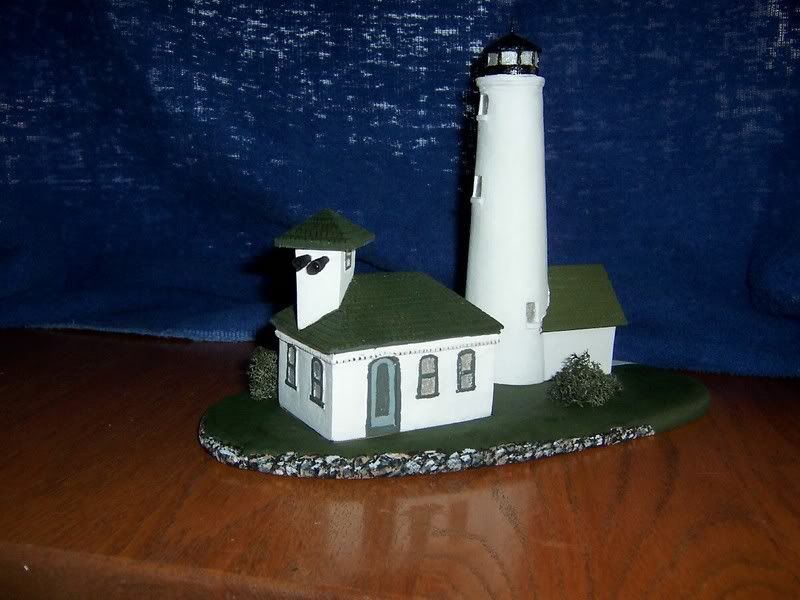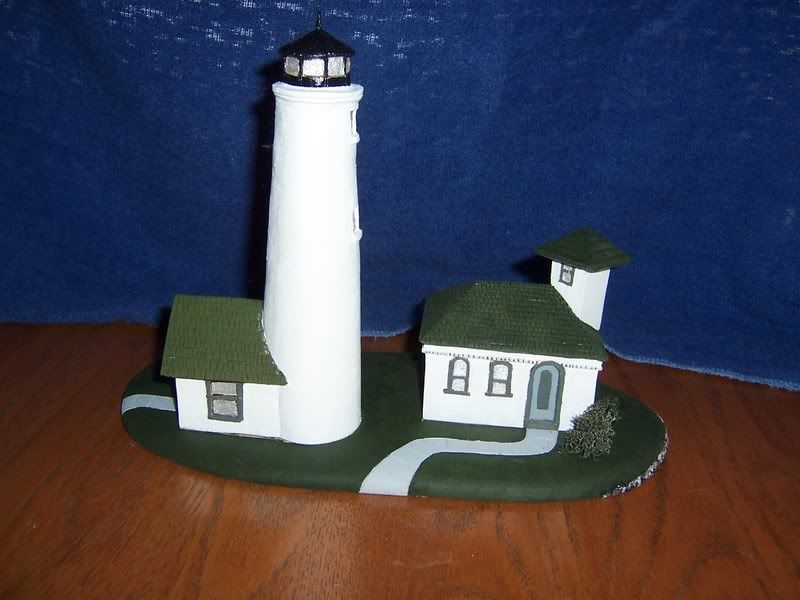 DICK TRIED HIS HAND AT CARVING OUR LOCAL LIGHTHOUSE....IT TOOK A LONG TIME...HE MAY OR MAY NOT MAKE MORE OF THESE. JANE DID THE PAINTING!

JULY 31, 2007
Dick holding the 'blank' for his Barred Owl carving project.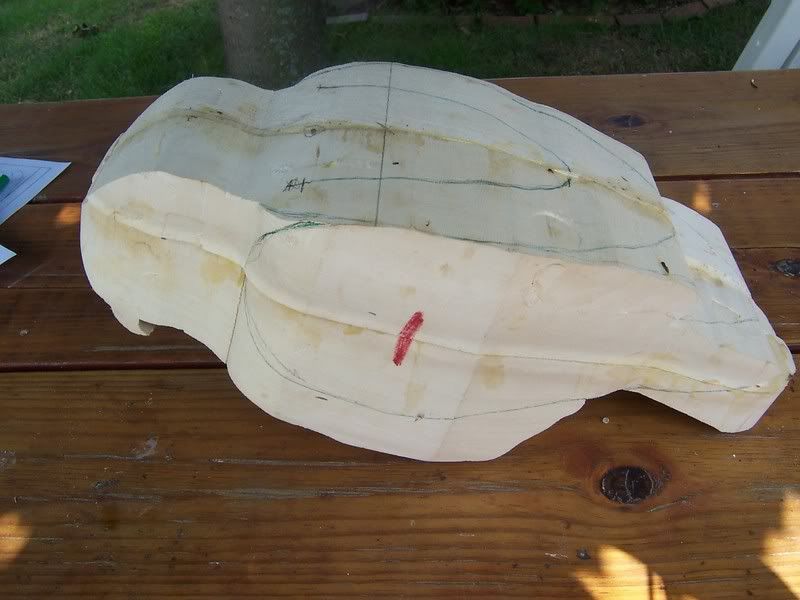 BARRED OWL BLANK
WE SAW THIS LIVE BARRED OWL (ON THE RIGHT-1ST PIC.......LEFT 2nd PIC) AT THE NY STATE FAIR (8-28-07) AND HOPEFULLY DICK'S CARVING WILL LOOK JUST LIKE IT.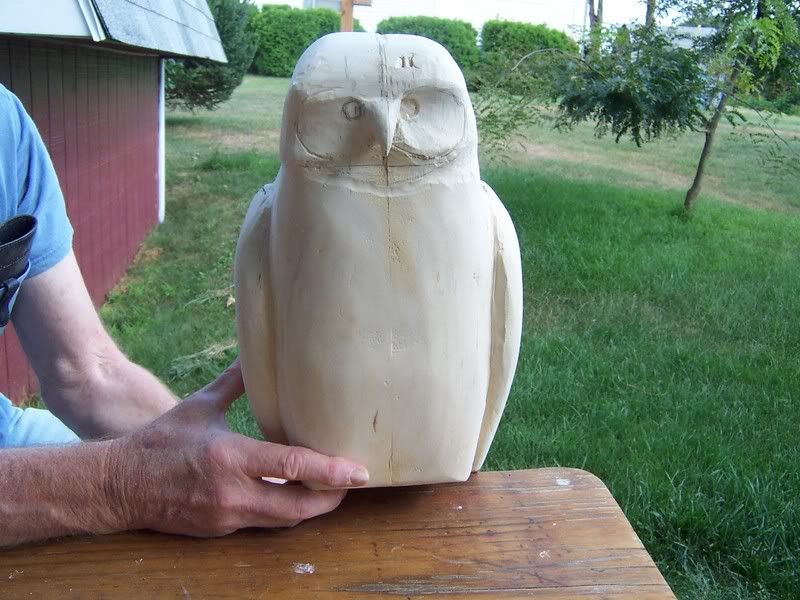 It's beginning to look like an owl. 8-10-07
9-4-07 9-4-07
He's finished the carving,

10-29-07 11-16-07 now, he's started the burning.
He's almost done with the burning. 11-24-07
Burning is finished, now it's on to the fun part...PAINTING! 11-30-07
12-15-07 FINISHED OWL AND MOUNTED

Started Painting 1-6-08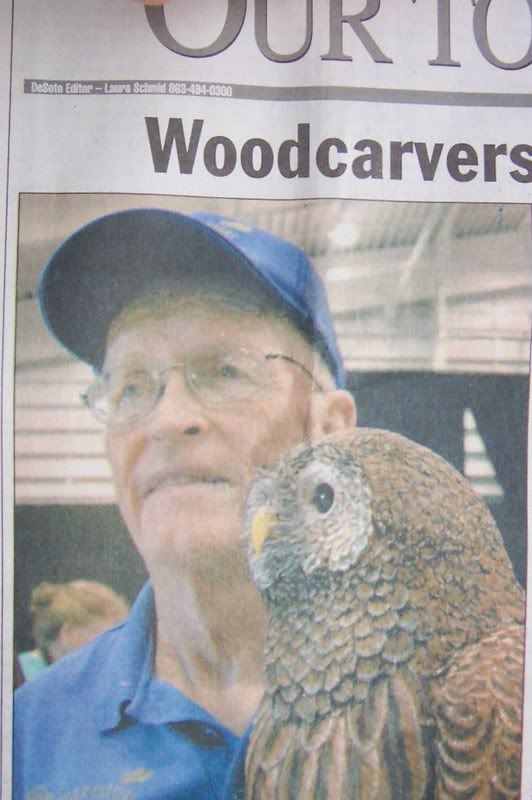 ON FEBRUARY 16,2008 AT OUR 5TH ANNUAL PEACE RIVER WOODCARVERS SHOW, DICK PROUDLY SHOWS OFF THE BARRED OWL THAT TOOK HIM 5 MONTHS TO CARVE, DURING AN INTERVIEW WITH OUR LOCAL ARCADIA NEWSPAPER...THE DESOTO SUN. **********************************************************************************************************************

DICK'S CARVINGS!
Dick spends most of his spare time carving many different things. He's entered birdcarvings into the Southwest Florida Woodcarving Exposition in Ft. Myers, FL for the past several years. He's Co-Chairman of the PEACE RIVER WOODCARVERS and President of BIG TREE WOODCARVERS. Both these clubs keep him very busy. Below are some of the carvings he's done and received ribbons for.
In 2006-2007 Dick carved a pair of Blue Jays (above). He's also teaching how to carve a caricature owl and blue jays in a class at the Speer Center each Tuesday. (below)

Click onto to this link to look at a good wood carving magazine called CHIP CHATS!