The 1000 Islands Region is an international tourism destination, encompassing communities on both sides of the U.S. and Canada border along the St. Lawrence River and the eastern shores of Lake Ontario. The region takes it name from more than 1000 islands that dot the lake and river along this international waterway. The region extends from Kingston to Cornwall on the Canadian side and from Oswego to Massena on the U.S. side, reaching inland to the foothills of the Adirondack Mountains to embrace the communities that are west and north of the Adirondack Park and the four NY counties of Oswego, Jefferson, Lewis and St. Lawrence.
FOR INFO ABOUT THE 1000 ISLANDS REGION GO TO:
The 1000 Islands Bridge is the international 'highway' between United States and Canada.
Some of the best fishing around is in the 1000 Islands....not only private but charter fishing, as well. Click here for more info.
BOLDT CASTLE - HEART ISLAND
LAKER PASSING BY BOLDT CASTLE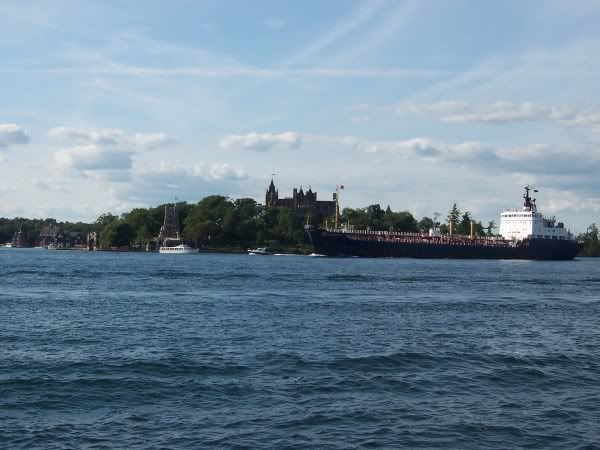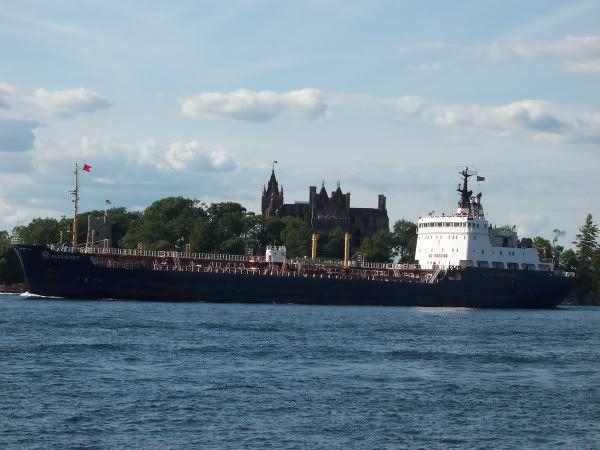 .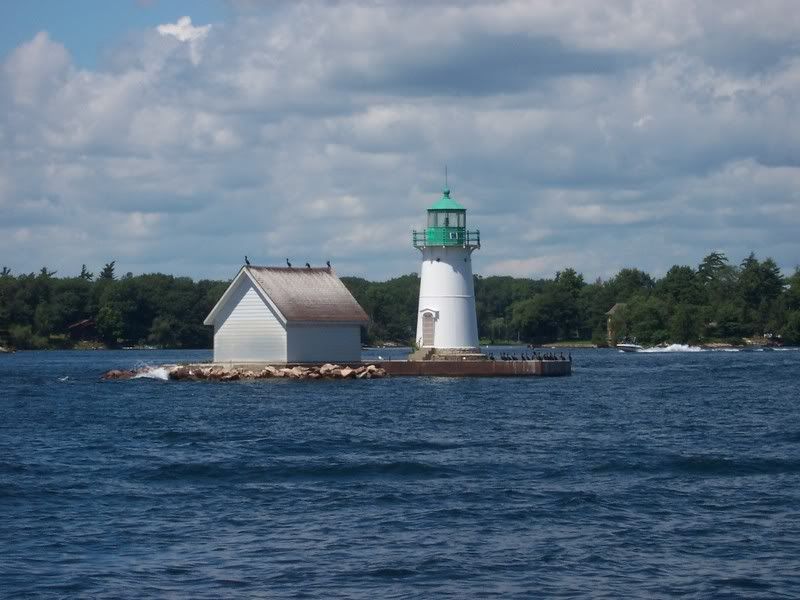 SUNKEN ROCK LIGHTHOUSE SITS DIRECTLY IN FRONT OF BOLDT CASTLE!

.
BELOW IS ANOTHER FAVORITE CASTLE TO TOUR IN THE 1000 ISLANDS. THIS IS SINGER CASTLE....LOCATED ABOUT 9 MILES DOWN RIVER FROM BOLDT CASTLE. (That's Dick, Karen and Steve standing infront)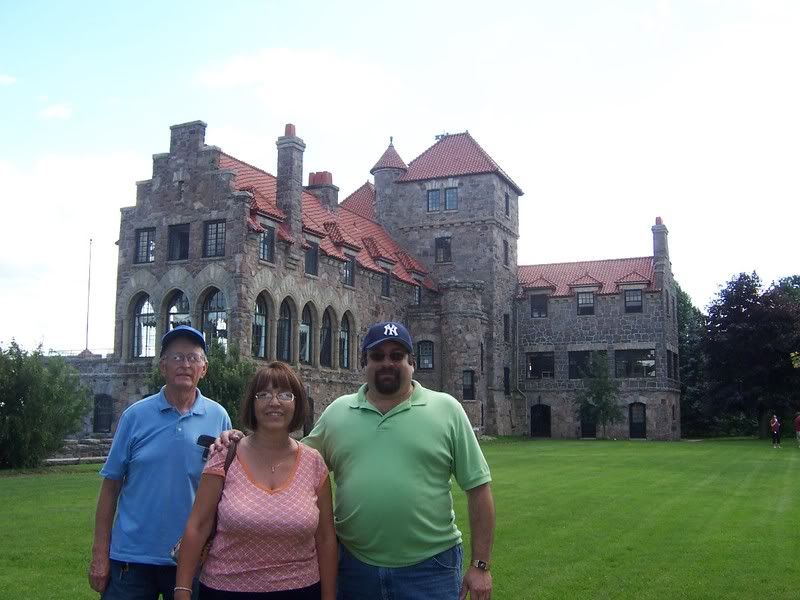 WE PASSED SISTER ISLAND LIGHTHOUSE ON THE WAY TO SINGER CASTLE!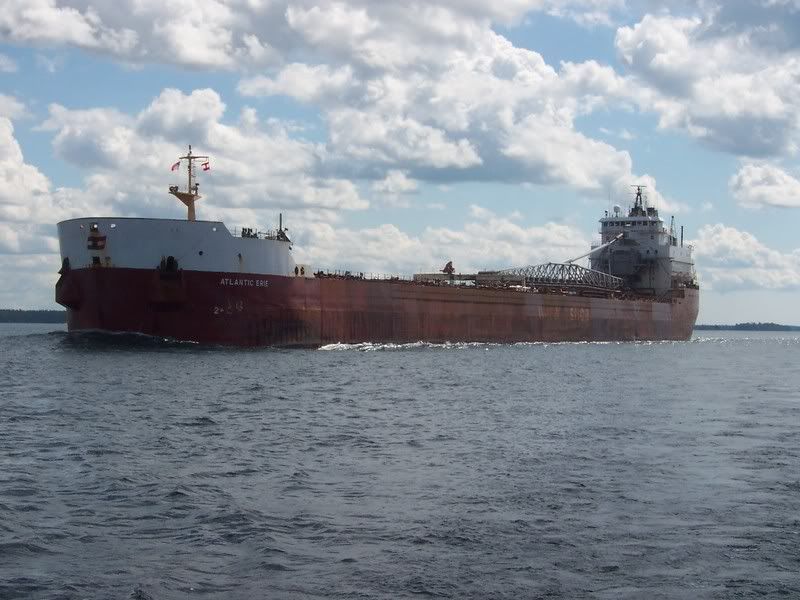 .........AND A LAKER FROM THE CANADA STEAMSHIP LINES WAS PASSING US!!!!!

One of our favorite eating places in the Islands is CAPTAIN'S LANDING, which is a 'floating restaurant' made from an old barge. It's located in Alexandria Bay and is directly across the river from Boldt Castle. The following are pictures of this restaurant.

For info regarding this castle and it's tragic history, link here:

TIBBETTS POINT LIGHTHOUSE
Tibbets Point Light
Cape Vincent, NY
This light sits a few miles west of the village of Cape Vincent, NY, at the point where the St. Lawrence River joins Lake Ontario. Follow Lighthouse Road from the center of town.
A tower was originally built here in 1827 on a parcel of land owned by Captain John Tibbet. The present 69-foot tower was constructed in 1869 and equipped with a 4th order Fresnel lens. A fog whistle is part of the site, and can be seen protruding from the building near the tower. The white stucco tower is beautifully maintained, and is still an active aid to navigation maintained by the Coast Guard.
The lighthouse shares Tibbets Point with an American Youth Hostel that is open from May 15 to October 15 (315-654-3450). There is also a fine gift shop and picnic tables. Tibbets Point is a beautiful and peaceful location to stop and enjoy the view.
.